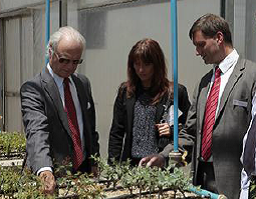 Swedish-Brazilian biorefinery project POLYNOL completed
In a collaboration between Swedish and Brazilian companies, universities and institutes, technology has been developed to produce 2G sugars and lignin integrated with a pulp mill. NiNa Innovation has led the project on behalf of Innventia.
The POLYNOL project focused on the value chain from lignocellulosic raw materials to sugar and lignin products in an industrial consortium with AkzoNobel, Fibria, Stora Enso, Novozymes, Sekab, Skandinavisk Kemiinformation, SP Processum and ÅF Industry. Brazilian universities UFPR and UFRJ and Swedish university Chalmers were also involved. The POLYNOL project was initiated and coordinated by Innventia (www.innventia.com), who contracted NiNa Innovation to manage the project. POLYNOL was selected as a prime example of innovation projects to be presented to Swedish and Brazilian industry leaders and King Carl XVI Gustaf of Sweden.